Knights in the San Diego Chapter of the Knights of Columbus participate in the Annual Tuition Drive. Grand Knights should work with Pastors to encourage parishioners to make a pledge of support for Catholic Education.
Our Chapter goal for the 2019 Tuition Drive is $50,000. We can easily reach this goal by finding 25 families per parish to make a $120 pledge. At larger parishes (2500+ registered families) we ask you to find 50 families to make the same pledge. Councils that collect $5000 or more in pledges are awarded at the Catholic Educator's Banquet each year.
Gifts are made to the Bishop Flores Scholars Tuition Assistance Program. These funds are used to award scholarships to families in need. In 2015-2016, the diocese found that $16M was needed to help families. So we're doing our part to help. Donors can make a one-time gift of $120. Or they can choose to pay $10 per month for 12 months.
When you make a gift, you can select a school within our diocese that will be designated to receive HALF of your gift as tuition assistance for one of its students. The other half of your gift can help any student at any school in our diocese.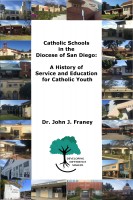 THE HISTORY OF OUR SCHOOLS
You can learn more about the history of our Catholic schools by reading this book. It details the impressive history of Catholic schools in the Diocese of San Diego and provides the impetus for revitalizing and sustaining local Catholic schools. The book, which includes 50 photos, delves into the growth of Catholic schools from as early as the 1700s, the religious sisters who taught in the schools, and a look at every Catholic elementary school, high school, and college.
MISSION AND VISION OF BISHOP FLORES SCHOLARS
The Diocese of San Diego has a rich tradition of educating the next generation of Catholics in our local parishes and schools. We are the largest private school system encompassing 49 schools in two counties, San Diego and Imperial, and impacting the lives of approximately 17,000 children in our elementary and high schools. The potential for growing our impact is unparalleled in this region and that is why supporting Catholic education is vital to building the future of our local Church.
---
Program Chairman
Name:

Thom Hiatt

Phone 1:

858-877-3733