CHRISTMAS POSTER CONTEST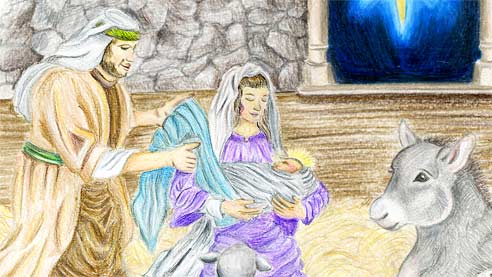 For many in society Christmas has become for many – especially children – a secular holiday. To combat this, the Knights of Columbus has introduced the Keep Christ in Christmas poster contest. This program – similar to the Substance Abuse Awareness Poster Contest – will allow young people to engage their creative talents and imaginations while understanding the true, spiritual meaning of Christmas.
Entries in the Knights of Columbus "Keep Christ in Christmas" Poster contest must include a slogan reflecting the topic and an original visual image.
ELIGIBILITY
The Knights of Columbus "Keep Christ in Christmas" Poster Contest is open to all young people between the ages of 5 and 14.
Contest entrants compete in one of three age groups—ages 5 through 7, ages 8 through 10, and 11 through 14. Some schools may have different age brackets for their elementary and middle schools. In these cases it may be appropriate to group students by grade rather than age. Sponsoring councils should use their own judgment in deciding how to group participants. (Each local, district, regional or state competition may have up to 6 winning entries – first, and second place winners in each age group.)
The SUBMISSION DEADLINE is the Chapter Meeting in January.  You may either bring your winning posters to the January Chapter meeting or submit them via carrier (mail or other, using a method that doesn't compromise the poster) to the Chapter Chairman, Brother Lito Alvarez at 748 Corte Cristal, San Marcos, CA 92069.  All submissions to the state must be completed before the end of January so the Chapter will be using the period post chapter meeting for judging and submitting the winners.
Vivat Jesus,
Lito Alvarez
Chairman, Poster and Essay Contest
KofC San Diego Chapter